Hire Jessika to Speak
Passionate. Knowledgable. Helpful.
Social Media and Inbound Marketing Keynote Speaker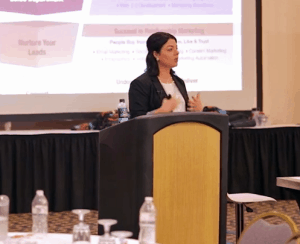 I greet each speaking event, big or small, with the desire to leave you with a drive to tackle your marketing goals. I offer a no-fluff, actionable, dive-in approach.
Topics:
The customer C.A.R.E. approach to driving repeat and referral business
From Bullhorn to Magnet: How to Become a Magnet Marketer and attract the right customers to your business.
How to Build Relationship ROI to drive business growth
The Power of Relationship Marketing – Referring from the outside in.
From Boring to Beautiful – content that attracts your ideal audience
Are you SMARKETING? (smart sales and marketing plan)
Create Marketing People Love: Relationship Marketing's 6 steps to creating your "Marketing Army."
Social-ly Awkward: Build a social media strategy to produces results for a non-traditional industry.
The Art of Gift Giving: Social Media is about giving, showing your audience how you can be helpful and solution based.
Social Media Platform Training: Facebook, Twitter, LinkedIn and Pinterest
Growing your Brand in The Experience Era
The Customer Revolution- how to succeed in 2020
Ideal Audience:
Corporate Trainings for Marketing and Sales Divisions

Entrepreneurs, Small Businesses, and Marketing Conferences

Associations and member organizations which support small businesses

Specialized Expertise in Optimizing Social Media for Healthcare, Education, Construction, and Professional Services industries.