JESSIKA PHILLIPS
Speaker Brand Kit
Since 2010, I have passionately spoken out about relationship marketing. Additionally, I am huge believer in the power of serving over selling.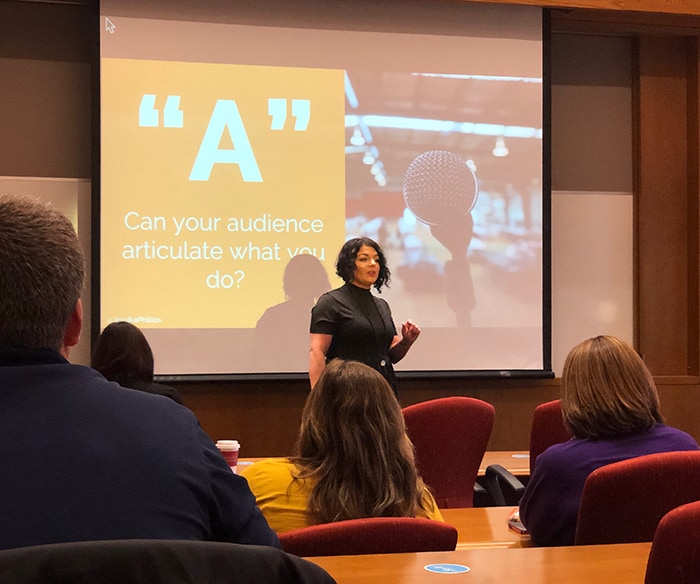 I've seen Jessika in action on stage and as a speaker at her annual event, and I can say that in both instances she is a magnet for bringing extraordinary ideas, people, and creativity together into one place. Her gift is in building and creating a community that wants to be a part of something bigger than themselves. And her style in every aspect of her very being is to give more than she gets. Now, how rare is that? If you don't hire her then please take a step back, the line is out the door.
Bryan Kramer
TED Speaker, Founder of H2H Movement, Performance Business Coach, CEO at H2H™ Companies
Jessika is an excellent speaker, and she is so knowledgeable in everything marketing. She even changed her schedule at the last minute to come to our rescue after another speaker had to cancel. We are so grateful to Jessika and recommend her highly for your speaking engagement.
Kathleen Reinsel
CNI Marketing Manager
Jessika has done several webinars for eLearningU and her sessions have always been fabulous. She is a fantastic speaker with fantastic content, so well delivered and authentic. I would highly recommend Jessika for any speaking opportunity, she will be an amazing addition to your roster. Attendees always rave about her immediately usable valuable content and fabulous delivery. Jessika is so easy to work with, professional, attentive and responsive. We look forward to continuing our relationship.
Susan Sweeny
E-Learning U
We invited Jessika to join several other outside business leaders to sit in on our strategic planning this year. Jessika was a great addition to our conversation - she challenged us to think outside the box, and helped us think carefully about practical execution of our future goals. Her energy and passion for marketing are contagious!
Pete Suter
Founder and CEO Shirley's Popcorn
Jessika Phillips has done a tremendous job of becoming synonymous with the concept of relationship marketing. She's developed a reputation of being one of the most well-connected digital marketers in the world by being one of the kindest and most accessible speakers you'll ever meet. Jessika is bright, witty and well-spoken, and she earns trust by truly practicing what she preaches on stage. I'd highly recommend Jessika to speak at your upcoming event.
Chris Strub
International Speaker and Author of 50 States 100 Days